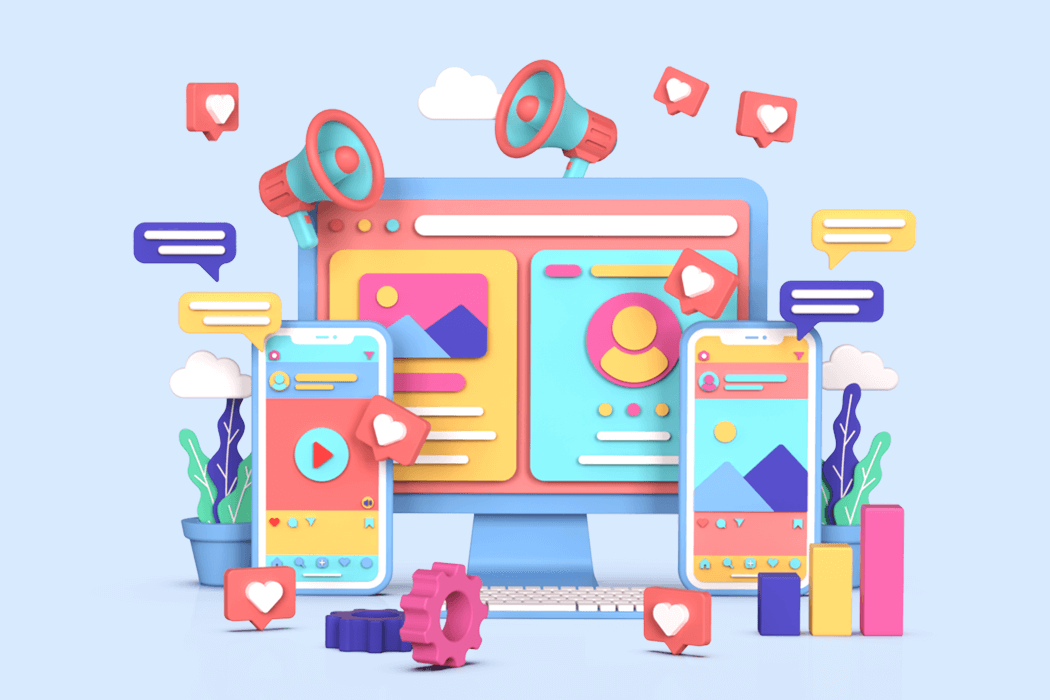 Consumers and audiences only see the final product of any campaign. When you see a social media post, you may not be aware of the amount of time, planning and collaboration that has gone into it. It isn't as simple as grammar checking your copy and finding an image on Google. There is a whole host of tools and software that aids social media content creation in 2021.
Amazing tools are available for images and editing, as well as platform-specific software for networks like TikTok and Instagram.
Today, we will be taking a look at the social media tools every creator needs.
Placeit
Placeit is a video and image tool that arms content creators with a library of designs, templates and video resources. For start-up marketing companies or ones with a smaller team, software such as Placeit can be a godsend. Placeit offers one-time purchases for certain services but also has monthly and yearly subscription options. Placeit's aim is to make professional branding, promotion and marketing tools accessible for everyone.
Canva
If you've read a few social media tools lists today, it is almost guaranteed that you have seen or read about Canva. Canva is one of the most popular tools for making social media images. Canva hosts a large library of images, templates and art that can be used to create high-quality images for socials. Canva's Free version is extremely useful and their pricing options are serviceable.
Crello
Crello is another graphic design application like Canva. It offers a wider extensive library of free templates for its users with over 30,000 designs, 180 million photos and 32,000 videos. Crello is also fantastic for large graphic teams as you can invite up to 10 people to collaborate on a project. Crello offers animations and a decent music library as well.
Grammarly
Grammarly is a spellcheck and grammar extension for web browsers. It corrects errors on mail clients, social networks and pretty much anywhere else on the web. Grammarly uses an AI to scan your text and spot grammatical mistakes, incorrect verb usage and poor sentence structure. It is vital that any copywriter exercises the use of Grammarly to spare blushes. The plug in is free for individuals and is actually a no brainer for any internet user, let alone content creators.
Hootsuite
Hootsuite is the most popular social media scheduling application. It is an all-in-one app that allows content creators to schedule social posts across a variety of networks and manage mentions also. It is a staple of every content creator's toolbox.
Anchor
Anchor is much like Hootsuite but instead focuses on podcasting. It is used to create, distribute and monetise podcasts. And it's free! You can easily publish your podcast on all key outlets as well as Spotify. Anchor also provides creators with analytics and engagement insights. Anchor also supports video creation but is the go-to site for podcast creation and sharing.
Cap Cut
Cap Cut is made by ByteDance, the creators of TikTok. This is a video editing app that allows users to use stickers, filters, effects and a green-screen option. It has been described as Final Cut on the go due to the insane capabilities of this app. The best thing about it: it offers all these options all on mobile! For content creators that are always on the move or want to post time-sensitive content, Cap Cut is an essential utility.
Hashtagify
Hashtagify.me is a great free tool, with paid options, that allows you to search for the right hashtags to use. Hashtags and tags on social media can be daunting to tackle. Do you use popular hashtags and get lost in the noise? Or do you use niche hashtags and hope you can find an audience? Hashtagify can help inform your hashtag usage but showing you how hashtags perform across all social networks. You will also see the top posts and influencers using that hashtag, which will then inform your content.
Caliston Academy's marketing courses will enable you to learn how to achieve success in social media by using engaging content to make your brand stand out.